Thanks to E Ink technology, the screens of modern e-readers are almost identical to printed pages: they are eye-friendly and do not glare in the sun. E-readers provide freedom of reading anywhere, anytime, and in this regard, one of the most useful features is a classic screen frontlight or the SMARTlight function.
Try to recall how many times you were ready to read in the middle of the night or just in places with not the best lighting. For instance, in public transport, camping, or a poorly lighted café. In such situations, e-readers with a frontlight or with a more advanced SMARTlight function are simply irreplaceable.
An e-reader with a frontlight - is it safe for the eyes?
Unlike screens of smartphones, tablets, and computers, which are not designed for long reading and constantly emit light waves, the E Ink display's frontlight can be turned off completely - if there is sufficient lighting.
The LEDs in e-readers are placed under the frame of the case and are directed along the screen, illuminating the electronic page, and not your face, as smartphones do. That's why in e-readers, we usually call it "frontlight," not a "backlight." It significantly reduces eye strain and makes the e-reader's frontlight much more eye-friendly, compared to even the dimmest smartphone screen.
Regular frontlight or SMARTlight?
Devices with a regular frontlight evenly illuminate the screen and make it possible to adjust its brightness.
While PocketBook e-readers with a SMARTlight function automatically adjust the brightness and colour temperature of the screen depending on the time of the day and human biorhythms. The user can also manually adjust the brightness and colour shade settings without interrupting reading, with swiping the finger along the side of the display. The warm yellow SMARTlight is ideal for reading before bedtime, and the cool white light is best for daytime reading.
It's up to you what PocketBook e-reader to buy: with a regular frontlight or with the SMARTlight function – both of them will provide the perfect comfort of reading in any conditions.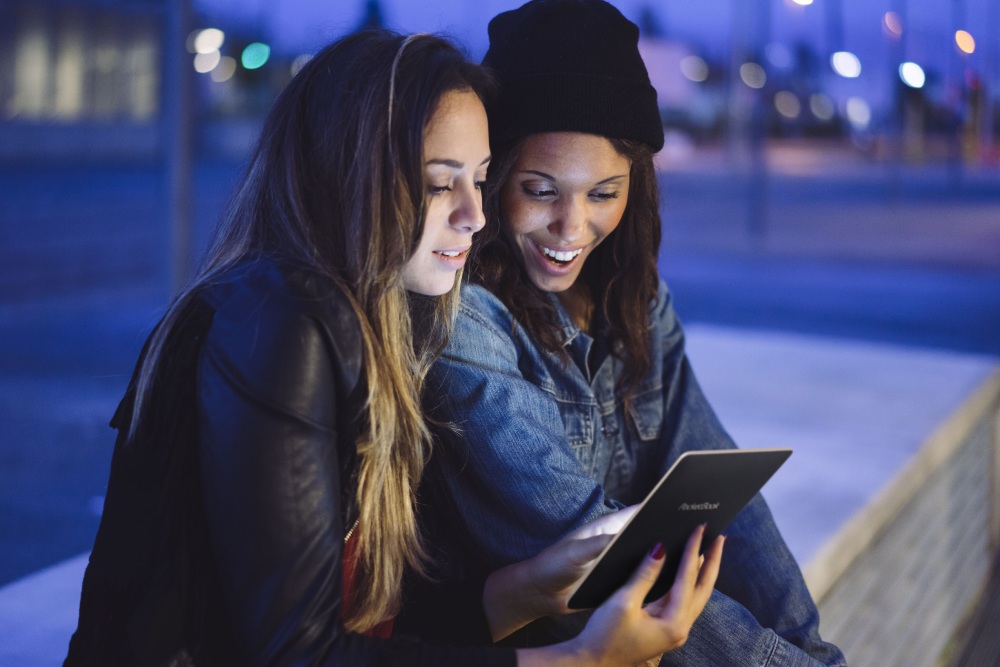 PocketBook e-readers with a frontlight: which one to choose?
Nearly every modern PocketBook device is equipped with a classic frontlight or a SMARTlight. However, each of them has unique characteristics that may suits perfectly for you. So which e-reader to choose?
Devices with regular frontlight:
PocketBook Basic Lux 2 – a basic level e-reader with a latest E Ink Carta ™ screen, support for 19 book formats (+ 4 graphic formats), and a slot for a memory card.
PocketBook Touch Lux 4 – an ultra-light and stylish touchscreen e-reader, awarded the international Red Dot Awards.
Devices with SMARTlight technology:
Whatever model you choose eventually, we guarantee the impeccable quality of our products. Enjoy your favorite books on the screen of your favorite PocketBook e-reader.