Very soon, the life of students will return to its former course: lessons, textbooks, homework. But who said that the usual learning process cannot be made more convenient and up-to-date? We invite you to meet E Ink e-readers – maybe the best gadgets for studying, devices that have combined the most useful qualities of printed books and tablets. Here are 4 main reasons why these gadgets suit perfectly for any type of education: at school, at university, and of course at home.
1. Eye-friendly and energy efficient
Surprisingly, in terms of its optical characteristics, the e-reader's display is closer to a regular printed page than to the screen of a smartphone or tablet. Electronic ink technology makes the e-reader safe for eyesight, which is very important for children and teenagers who regularly spend half the day reading their textbooks. Thanks to this same technology, the screen is incredibly energy efficient and only consumes power when you turn pages or turn on the frontlight. It means that the devices can easily work for more than a month on a single battery charge, which is also very important for any student.
Another pleasant fact: all these features apply to any modern PocketBook e-reader, regardless of its cost.
2. Fewer books to carry, more books to download
Remember how many things you had to carry every day in your schoolbag: textbooks, notebooks, library books for extracurricular reading, some pens, and other supplies. Well, thanks to the e-reader, most of this load will disappear. Of course, we are talking about books that will be transferred from a backpack or a bag straight to the memory of the PocketBook device.
The amount of memory varies in different models, but whether it's PocketBook Basic 4 (8 GB internal + up to 32 GB microSD card), PocketBook InkPad X (32 GB internal) or PocketBook Color (16 GB internal + up to 32 GB microSD card) - any device's memory is enough to accommodate a vast library.
In addition, PocketBook e-readers are among the most compact and lightweight on the market. The lightest of modern models weighs only 145 g (PocketBook Basic 4 with 6-inch screen), the heaviest - only 310 g (PocketBook InkPad X with a 10.3-inch screen). On average, the weight of 6-inch devices does not exceed 160 g, which can be compared with a regular notepad.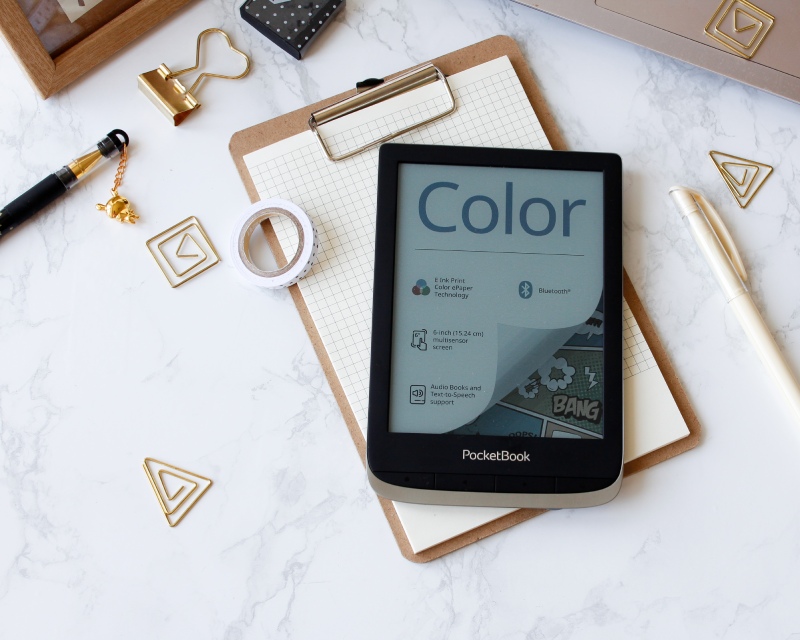 3. No social media – no distractions
Yes, it seems that technologies have reached a stage of development when the absence of messengers and social networks is more likely a pro and not a con of the device. Especially when it comes to a device for the study of children and teenagers. After all, how can a book (and even more so a textbook) compete with viral videos, TV series, or games? Of course, a modern e-reader allows you to access the Internet to search for information or purchase books, but chatting with friends or watching YouTube on it is impossible.
"When I read, I only read." The e-reader teaches you to be mindful, helps you stay focused and not get distracted every two minutes by social media feeds.
4. All types of books are welcome. Even the colored ones
PocketBook is not a closed system with several supported formats and file transfer ban. Our e-readers support the biggest number of formats – up to 19 book, 4 graphic, and 6 audio formats. Thus, almost any file uploaded to the device will open without additional conversions. And with the new PocketBook Color, textbooks, children's books, comics, and other files with color illustrations will be displayed on the device's screen in color.
And this is not all good news about file displaying, because PocketBook is a unique ecosystem for comfortable reading on any device. The electronic library can be easily synchronized with PocketBook Cloud, and thanks to the PocketBook Reader app, you can continue reading the book from the same place, using not only e-reader but also a smartphone, tablet or laptop. This freedom of reading will certainly appeal to students.
Another important feature, which makes e-reader an ideal gadget for learning: the student can make bookmarks, highlight and save essential quotes and pieces of text and make comments for them. And all of these can be done without interrupting reading!