PocketBook is excited to announce its brand-new e-reader InkPad Lite with a 9.7-inch E Ink Carta™ display, making reading on a big screen even more affordable! The product will become available in Autumn 2021.
The new large-screen device with SMARTlight feature, updated design and control buttons on the side panel guarantees the user flawlessly comfortable reading.
The combination of a big screen, reasonable price and lots of possibilities for working with text – users can make notes and bookmarks, highlight and save essential parts of the text, use a dictionary – makes InkPad Lite an indispensable gadget for self-development and studying.
Bigger screen – exceptional e-reading experience
PocketBook InkPad Lite is equipped with a large 9.7-inch screen, which is ideal for any content: from ordinary fiction to professional literature and textbooks. A large diagonal allows more text on a screen, and is more convenient for readers with vision problems to adjust the font size to suit their needs. Do not forget about the E Ink Carta™ technology, which makes the e-reader's screen as close as possible to a standard printed book, and therefore completely safe for the eyes.
More possibilities with SMARTlight
Unlike traditional frontlight, SMARTlight technology allows users to adjust not only the brightness of the screen but also the color temperature. So, users can read with maximum comfort in any light, and choose warm or cool frontlight tones depending on their mood and preferences. The automatic mode will change the settings according to the time of the day. In addition, readers can create their own templates with brightness settings, quickly adjusting the screen to their needs at the right time.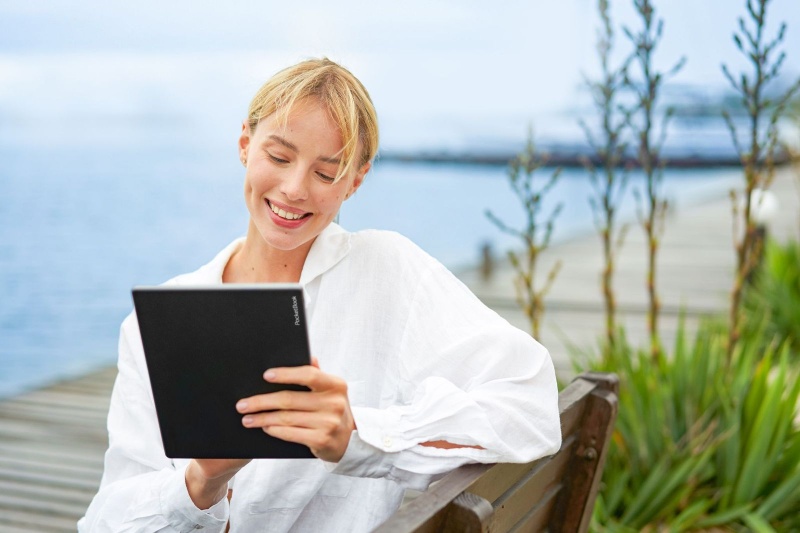 Brand-new design, side control buttons and compactness
PocketBook InkPad Lite has a new restrained and pragmatic design, which will surely appeal to lovers of classics. But the main innovation of the model is the control buttons which have moved from the bottom part of the device to the right-side panel. For many users, the e-reader will become even more ergonomic and convenient, thanks to the ability to turn pages using the side buttons. And thanks to G-sensor, which detects device screen orientation, InkPad Lite is equally well suited for both right-handed and left-handed readers. More great news for users is the size of the InkPad Lite. The dimensions of the e-reader are 236.2 × 173 × 7.9 mm, which makes it one of the most compact devices in such screen-size category.
Support for a vast number of formats without conversion
One of the many advantages of each PocketBook e-reader is the support for a large number of formats. PocketBook InkPad Lite will also delight users with extraordinary freedom of choice: the device supports 19 book and 4 graphic formats. It means that the e-reader can open books, documents and images in all the most popular formats, and users do not need to waste time converting files.
Wi-Fi and native Cloud services
Thanks to the PocketBook Cloud and PocketBook Reader app users can synchronize books (and entire libraries) between different devices. In addition, the Dropbox and Send-to-PocketBook services together with built-in Wi-Fi, allow transferring books to the e-reader in just a few clicks.
Dual-core processor and powerful battery
PocketBook InkPad Lite is equipped with a powerful dual-core processor, which provides a high speed of loading books, applications, and smooth page-turning. And thanks to the 2200 mAh battery, the e-reader can work on a single charge for up to one month.
9.7-inch PocketBook InkPad Lite makes it easier than ever to get excited with e-reading.