PocketBook is thrilled to announce the next e-reader in the popular "InkPad" product line. The new PocketBook InkPad 4 features a 7.8-inch screen with the latest E Ink Carta™ 1200 generation technology, a built-in speaker, Bluetooth®, and water protection with IPX8 capabilities.
Traditionally for InkPads, it includes the adaptive SMARTlight, audiobooks support and Text-to-Speech function.
Thanks to the new modern design, the PocketBook InkPad 4 is compact, perfectly ergonomic, and stylish. Discreet front and back panels in black contrast with moon-silver edging. Despite the large screen, the device weighs only 265 g, making it equally convenient for relaxing reading and reading on the go.
The new PocketBook InkPad 4 will be available in the next two weeks.
The E Ink Carta™ 1200 screen is even more eye-friendly
PocketBook InkPad 4 has the latest 7.8-inch E Ink Carta™ 1200 screen with a resolution of 1404 × 1872 and 300 PPI. With this new technology, the electronic page has 15% more contrast, while the E Ink response time has increased by 20%.
The new e-reader also stands out with a screen size as close as possible to a standard printed book. It makes it highly convenient for reading any content: from ordinary fiction books to professional literature, magazines, and even comics.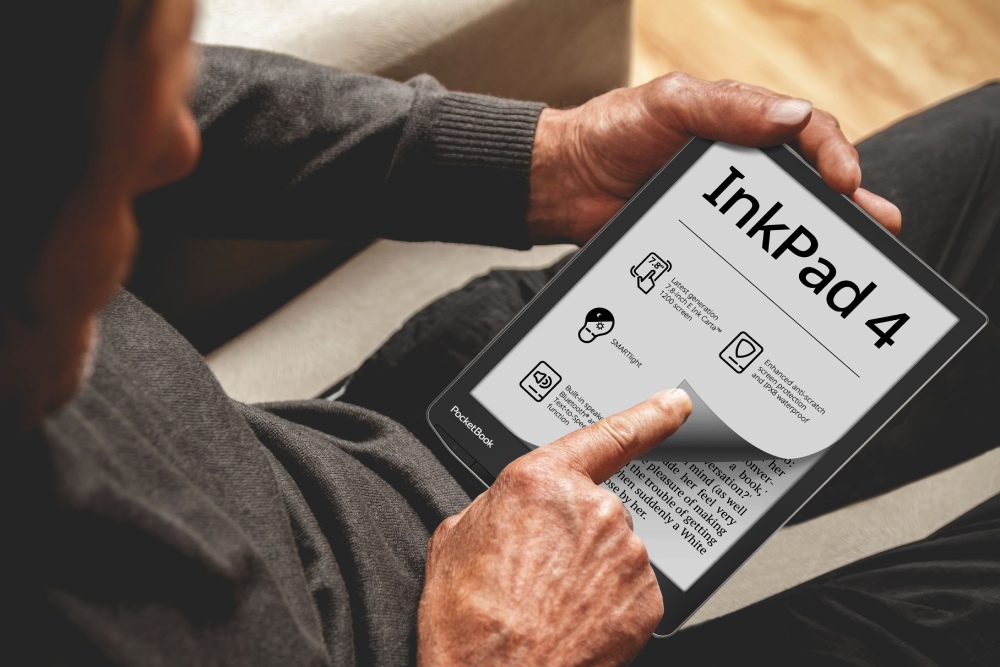 Change the frontlight tone with the SMARTlight
Thanks to the SMARTlight function, users can enjoy safe reading in any lighting. The adaptive frontlight allows you to adjust not only the brightness of the screen but also the color temperature, choosing a warm or cool tone. Soft light from SMARTlight allows you to read comfortably even in complete darkness while the e-reader's screen remains eye-friendly.
Built-in speaker, Text-to-Speech, and other audio functions
PocketBook InkPad 4 supports 6 audio formats and features a built-in speaker. It provides a new level of freedom to all audiobook fans as they can listen to any audio file directly on the e-reader without any other devices. Thanks to Bluetooth, PocketBook InkPad 4 can always be paired with wireless headphones, speakers, and other audio systems to enjoy an audiobook in any convenient format.
Particularly noteworthy is the Text-to-Speech function, which turns the e-reader into a real storyteller. With just two clicks, PocketBook InkPad 4 will read aloud any text file with a natural-sounding voice in one of 26 available languages. In other words, users can quickly turn any ordinary text into a real audiobook.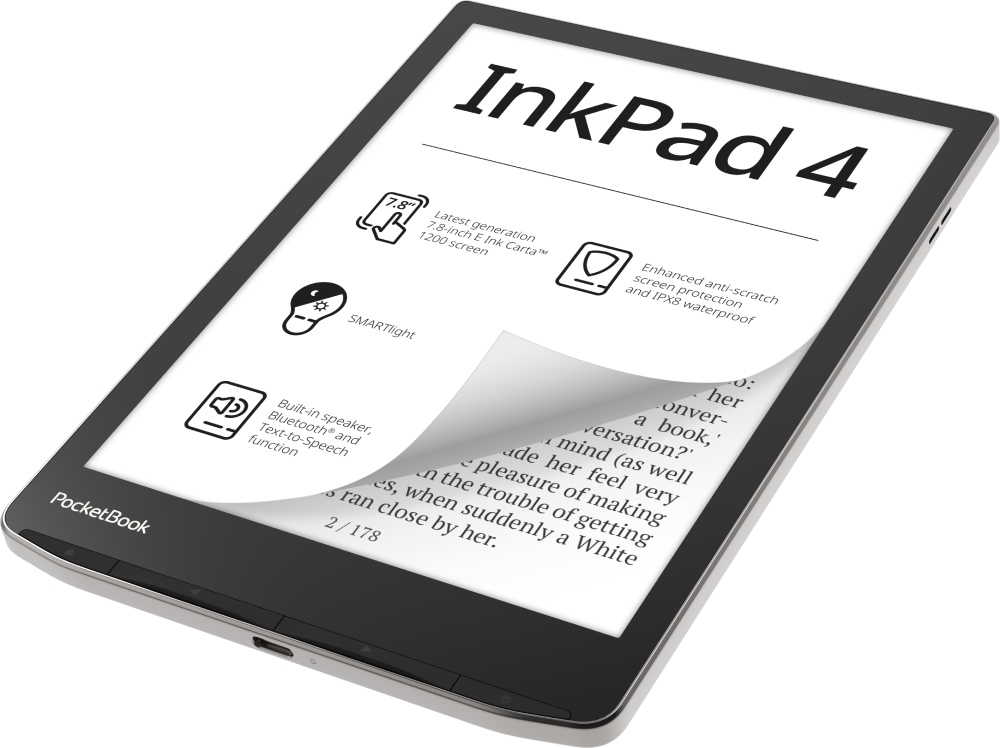 IPX8 water resistance and scratch protection
PocketBook InkPad 4 is protected against the harmful effects of water according to the IPX8 rate. The e-reader can withstand immersion into fresh water to a depth of 2 meters for up to 60 minutes.
Also, the device's screen received improved protection against scratches, which will be great news for users who like to read on the go. Water resistance and additional screen protection will give readers even more confidence in the device's safety and allow them to enjoy their favourite book anywhere.
Other PocketBook InkPad 4 features:
Support for 21 book and 4 graphic formats without conversion;
Support for 6 audio formats;
Wi-Fi and Cloud service - for synchronisation with other devices and convenient library management;
32 GB of internal storage - enough space to collect a huge library that is always on hand;
2000 mAh battery - up to a month of active reading without recharging;
Dual-core processor - for smooth page-turning and fast e-reader operation;
Automatic screen rotation – the e-reader automatically changes the screen's orientation for additional reading convenience;
A large number of dictionaries - 11 pre-installed language combinations and 42 combinations available for free download;
Light and compact– despite the large screen, the e-reader weighs only 265 g, while its dimensions are 134 × 189.5 × 7.95 mm.
PocketBook InkPad 4 – the world's bestseller with new abilities