PocketBook is excited to present PocketBook InkPad 3 Pro – the new edition of 7.8-inch e-reader now with water protection and Bluetooth connectivity. These new features along with an elegant design, SMARTlight and audio output turn the new PocketBook model into a real pro in the world of e-readers.
Big opportunities with big e-reader
The new book-sized PocketBook InkPad 3 Pro is equipped with 7.8-inch E Ink Carta™ HD (1404 x 1872) screen with 300 DPI. The display virtually erases the border between traditional and electronic page and the size of the e-reader makes it as close to a traditional book as possible. The latest generation screen even makes you forget that you are reading from an e-reader. There is no pressure on the eyes, and information is perceived better – just like reading an ordinary paper book.
Step into the freedom of reading
You can safely enjoy reading from anywhere with the PocketBook InkPad 3 Pro: lying in the bathroom or by the pool, on the beach or even in the rain. The new e-reader is waterproof from the inside out. A microns-thin coating protects the internal electronics of the device from potential damage caused by exposure to moisture or liquids. With IPX8 capabilities the device can be immersed into fresh water up to a depth of 2 metres for up to 60 minutes with no harmful effects.
Better protection with a sleeve-case
To provide additional protection from mechanical damage the retail set of PocketBook InkPad 3 Pro includes a black sleeve-case, which supports sleep mode.The new e-reader has a built-in cover sensor, which automatically switches the device into sleep mode every time you put it in the case.
Smart adjustments for your smart lifestyle
SMARTlight technology is more than just a simple frontlight. This function will automatically balance the brightness and colour temperature of the screen depending on the lighting and time of day.The user can manually adjust the brightness and colour temperature of the frontlight while staying on the book page. In addition to this, it's possible to create templates with a different set of adjustments of screen brightness, which will simplify the work with the e-reader and save you time.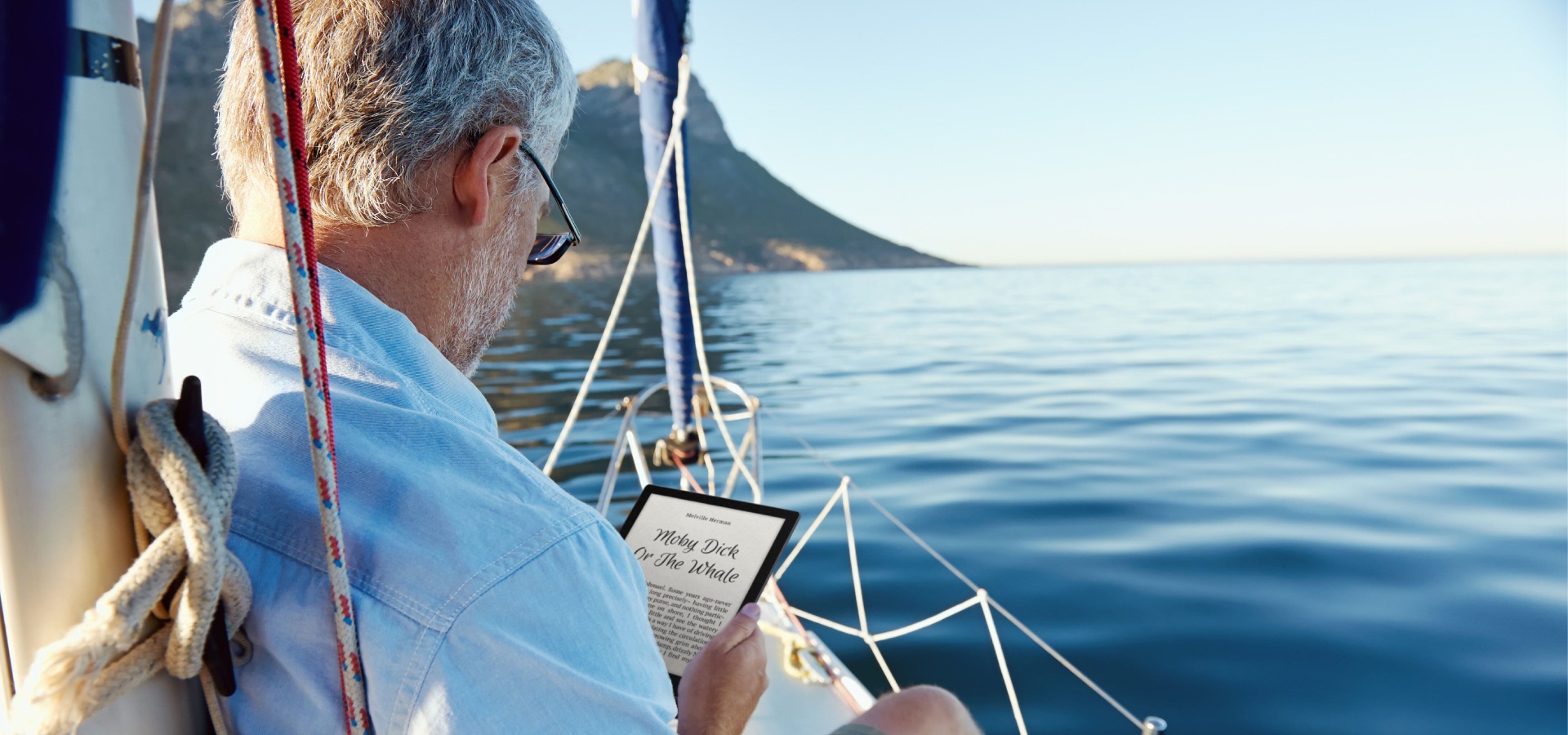 Not only for readers but also for listeners
PocketBook InkPad 3 Pro is created to provide maximum opportunities for each user: you can not only read books but also listen to them, thanks to the micro USB audio adapter and Bluetooth wireless connection. The e-reader supports the two most popular audio formats, mp3 and m4b, so you can listen to and bookmark your favourite audiobooks with ease or just listen to music while reading.
Another useful function of the PocketBook InkPad 3 Pro that is worth mentioning is the Text-to-Speech tool, which turns your e-reader into a real storyteller. Thanks to the Text-to-Speech tool, your device can convert the text of the e-book into audio and read aloud any text file from the e-reader's library.
Quick-thinking device for any task
PocketBook InkPad 3 Pro is equipped with a high-performance dual-core processor and 1 GB RAM, which significantly increases the speed of the e-reader including the launching speed of applications and services, as well as smoother page turning.
A 1,900 mAh battery will ensure weeks of exciting reading without the need to recharge. The e-reader's internal memory has been extended to 16 GB, which will allow you to store an electronic library of more than 3,000 books. PocketBook InkPad 3 Pro supports 19 book and 4 graphic formats (JPEG, BMP, PNG, and TIFF). All of these files can be easily downloaded to the e-reader thanks to built-in Wi-Fi, and online services: Dropbox, Send-to-PocketBook and PocketBook Cloud.
Additionally, the e-reader comes with pre-installed Abbyy Lingvo® dictionaries with 24 language combinations. This not only simplifies reading and translation of foreign literature but also turns the PocketBook InkPad 3 Pro into an indispensable assistant during trips.
Stylish and light e-reader – an ideal companion
PocketBook InkPad 3 Pro's large HD screen with a diagonal of 7.8 inches, dimensions of 195 x 136.5 x 8 mm and weight of only 225 grams make it ideal to carry with you during everyday city trips or even long-haul journeys.
The e-reader's stylish and thoughtful design meets the latest global trends. The gadget not only looks great but is also extremely ergonomic and convenient to use – easy to hold and can be controlled with just one hand.
PocketBook InkPad 3 Pro – real pro in the world of e-readers