PocketBook is excited to announce the launch of sales of the long-awaited model - PocketBook InkPad Lite e-reader. A device with a large 9.7-inch E Ink Carta™ screen, a SMARTlight frontlight and side control buttons will be an excellent choice for those looking for a combination of affordability and great reading opportunities.
A 9.7-inch screen is ideal for reading and studying
Read any e-content in comfort, turn pages less often and take good care of your eyesight with the 9.7-inch screen, based on E Ink Carta™ technology. A screen of this size can display almost twice as much text on one page compared to classic 6-inch devices and makes it even more convenient to read, choosing larger font sizes. Such a screen can also display pages of magazines, textbooks, and specialised literature in a size close to their original, which will be a real gift for students. All these benefits, along with the wide opportunities to work with texts – take notes, make bookmarks, highlight and save important parts of the text, use the dictionary – turn PocketBook InkPad Lite into an indispensable device for studying.
Even more comfort with side control buttons
The updated design brings modern minimalism and ergonomics to the PocketBook InkPad Lite. With the control buttons on the right-side panel, it will be even more convenient to turn pages for many users. Side buttons will also become an excellent alternative to the touch screen. Thanks to the G-sensor, which is responsible for the orientation of the device's screen, the e-reader will be comfortable to hold with both right and left hands. Another great thing is the relatively compact size of the device. With dimensions of 236.2 × 173 × 7.9 mm, PocketBook InkPad Lite is one of the smallest in the category of e-readers with a screen of this size.
Choose warm or cool tones with SMARTlight
SMARTlight not only adjusts the brightness level but also allows users to set the color temperature of the screen. For instance, a soft warm color of frontlight is perfect for evening reading, while cold tones suit daylight hours. SMARTlight in automatic mode allows the e-reader to change the brightness and color temperature settings depending on the time.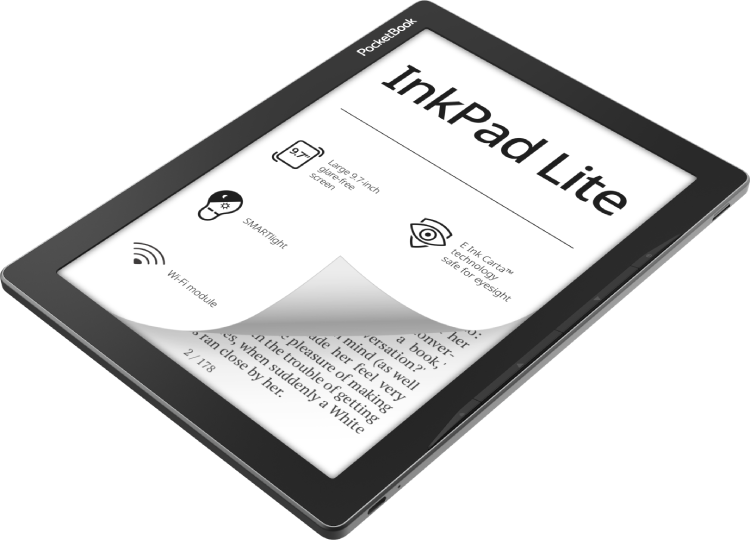 Other features of PocketBook InkPad Lite:
Support for 19 book and 4 graphic formats - the e-reader will open most text files and images without conversion.
Wi-Fi and brand cloud services - PocketBook Cloud and PocketBook Reader synchronise files between the e-reader and a smartphone or a laptop. While using Dropbox and Send-to-PocketBook, users can quickly and conveniently move files to PocketBook InkPad Lite.
Dual-core processor - for smooth page turning and great application performance.
Powerful 2200 mAh battery - allows the device to work for up to one month on a single charge.
PocketBook InkPad Lite – affordable comfort with a large screen