PocketBook updates its product line of e-readers with color E Ink 7.8 inch screens – the new PocketBook InkPad Color 3 features the latest E Ink Kaleido™ 3 screen, providing even better color page resolution.
Whether diving into an exciting novel, exploring colorful comics, or working with a textbook, PocketBook InkPad Color 3 with a book-size 7.8-inch E Ink Kaleido™ 3 screen will perfectly match your reading activities.
PocketBook InkPad Color 3 also boasts an impressive set of functions for reading and listening: built-in speaker, Text-to-Speech, Bluetooth, IPX8 water protection, SMARTlight, Dark mode, support of 25 formats without conversion, and more.
The new PocketBook InkPad Color 3 in the stunning color Stormy Sea will go on sale soon. Get ready to embark on a colorful e-reading adventure!
Cutting-edge color screen E Ink Kaleido™ 3
The PocketBook InkPad Color 3 features the latest 7.8-inch color screen E Ink Kaleido™ 3, displaying 4096 colors while remaining eye-safe and glare-free. The latest E Ink Kaleido™ 3 technology significantly upgrades the e-reader's optical characteristics: with an impressive 50% increase in color e-page resolution and PPI, your books, comics, and magazines will burst to life with even better color performance and detail.
Eye-friendly reading anytime with SMARTlight and Dark mode
Experience a whole new level of reading comfort with the adaptive SMARTlight feature, the technology that helps to adjust the screen's brightness and color tone. Choose a warm tone of screen frontlight for a cosy evening marathon with a book or a cool tone, perfect for morning reading. For late-night reading sessions, PocketBook InkPad Color 3 has a Dark mode that inverts text and background colors to ensure comfort for your eyes and provides an eye-safe reading experience without needing external lighting.
Built-in speaker and Text-to-Speech
Introducing PocketBook InkPad Color 3 impressive audio capabilities! With its built-in speaker, users can effortlessly dive into audiobooks anytime, with no extra devices needed. The Bluetooth (5.0) connectivity allows you to pair the e-reader with wireless headphones and other devices.
The Text-to-Speech function quickly transitions from reading to listening, perfect for times when reading isn't convenient. Text-to-Speech reads any text file aloud with a natural-sounding voice in one of 26 available languages. Simply start listening to your book whenever and wherever you need it!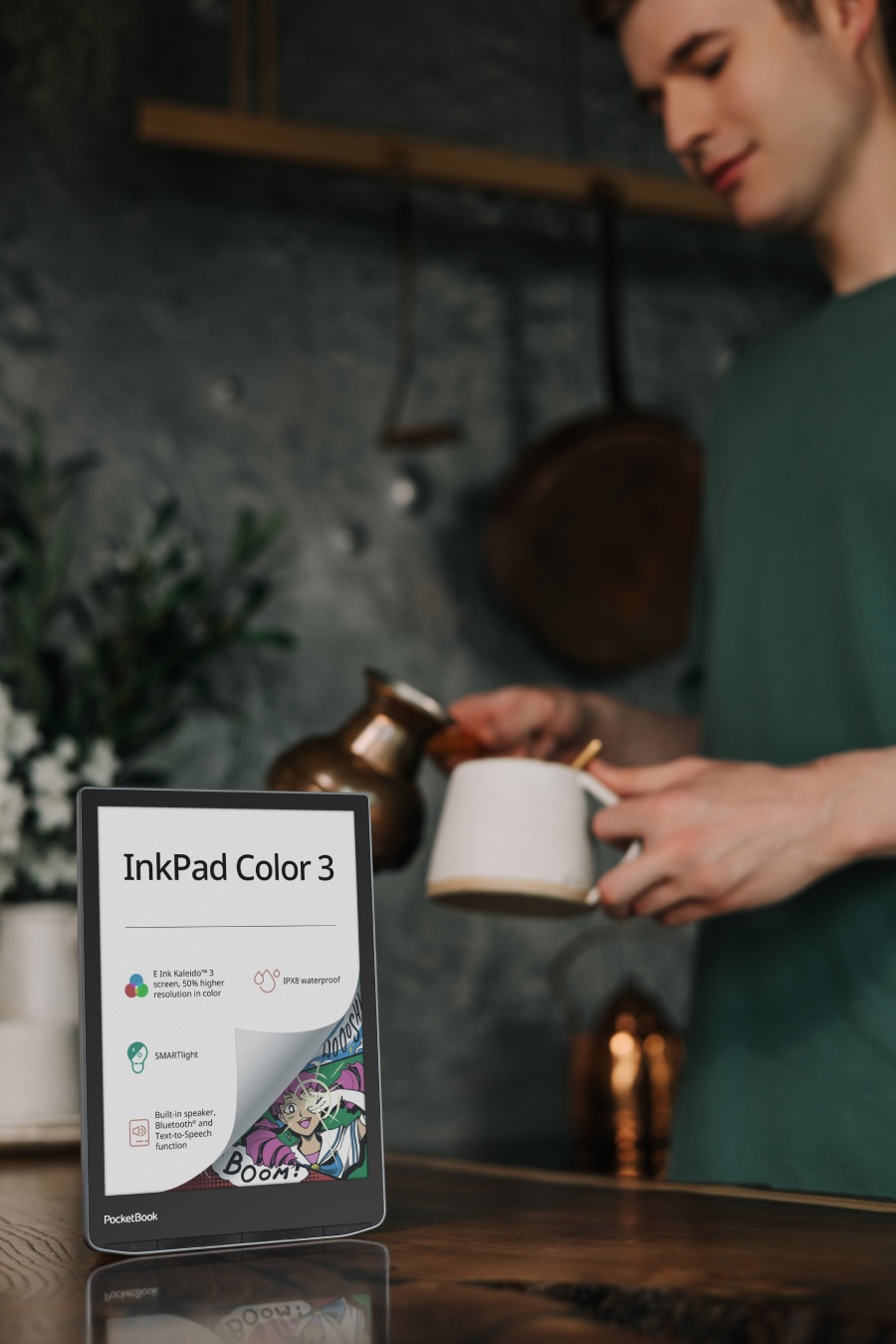 Enjoy carefree reading with an IPX8 water-protected device
Experience worry-free reading with PocketBook InkPad Color 3 water protection IPX8. This remarkable feature ensures that the e-reader can withstand immersion in fresh water up to a depth of 2 meters for a full 60 minutes. So, whether you are at poolside, at the beach, or caught in the rain, your InkPad Color 3 stays safe. Enjoy your reading experience with confidence, knowing your e-reader is designed to handle unexpected situations.
Phenomenal ergonomics and outstanding design
Despite the large book-like size, the e-reader remains as ergonomic as possible. It fits perfectly in the hand and is extremely user-friendly thanks to the mechanical control buttons, touchscreen, and G-sensor for screen autorotation. The device also stands out with its exquisite design and original Stormy Sea color. The attractive and handy PocketBook InkPad Color 3 will become your gateway to an immersive and enjoyable reading journey!
Comics and manga formats support, one month on a single charge, and other InkPad Color 3 superpowers:
25 book, graphic, and comics formats – PocketBook InkPad Color 3 supports all the most popular formats without conversion, including CBR and CBZ comics and manga formats;
6 audio formats – listen to audiobooks and music with no limits as the e-reader supports M4A, M4B, OGG, OGG.ZIP, MP3, MP3.ZIP formats;
32 GB of built-in memory – create your perfect digital library;
Up to one month without recharging – thanks to the E Ink technology and powerful battery, the device can provide an amazingly long reading time on a single charge;
Dual-band Wi-Fi (2,4/5GHz) - – purchase books in any online shops;
PocketBook Cloud & Dropbox - manage and synchronise your library between e-reader and other devices;
Pre-installed dictionaries – the e-reader offers 11 pre-installed dictionaries, while 42 additional language combinations are available for free download.
PocketBook InkPad Color 3 – your colorful e-reading adventure!