PocketBook is happy to announce that its flagship PocketBook Era e-reader has finally hit the shelves. The model features the next-generation 7-inch screen E Ink Carta ™ 1200 with enhanced scratch protection, IPX8 water protection, and SMARTlight for comfortable reading anywhere. Thanks to the built-in speaker, Bluetooth, support for 6 audio formats, and the Text-to-Speech function, the e-reader will be a real find for audiobook lovers.
In addition to wide functionality, the PocketBook Era stands out with its impressive new design, compactness, and ergonomics. Side control buttons and screen autorotation make the e-reader as handy as possible for left and right-handed users. Due to the cover-catch system, the device easily integrates with branded covers, providing protection and comfort.
New E Ink Carta™ 1200 screen: even better contrast and response time
PocketBook Era features the latest 7-inch E Ink Carta ™ 1200 screen with a resolution of 1264 x 1680 and 300 DPI. Thanks to the new technology, the display has become even more pleasant and comfortable to use, with a 15% increase in screen contrast and 20% improvement in touch screen response time. In addition to impressive optical performance, the new e-reader boasts the SMARTlight feature - an adaptive frontlight to adjust the screen's brightness and colour temperature for the best e-reading experience.
The next level of audio freedom with a built-in speaker and Text-to-Speech
With PocketBook Era, users can enjoy audiobooks with no limits: the device supports 6 audio formats and can play any audio file via a built-in speaker. The e-reader comes with Bluetooth, so you can pair it with wireless headphones, speakers, and other devices to play your audiobooks or music. Another priceless feature for all audiobook fans is Text-to-Speech, which turns any text file into a natural-sounding audio track. PocketBook Era can read aloud in one of the 26 available languages, in male or female voices.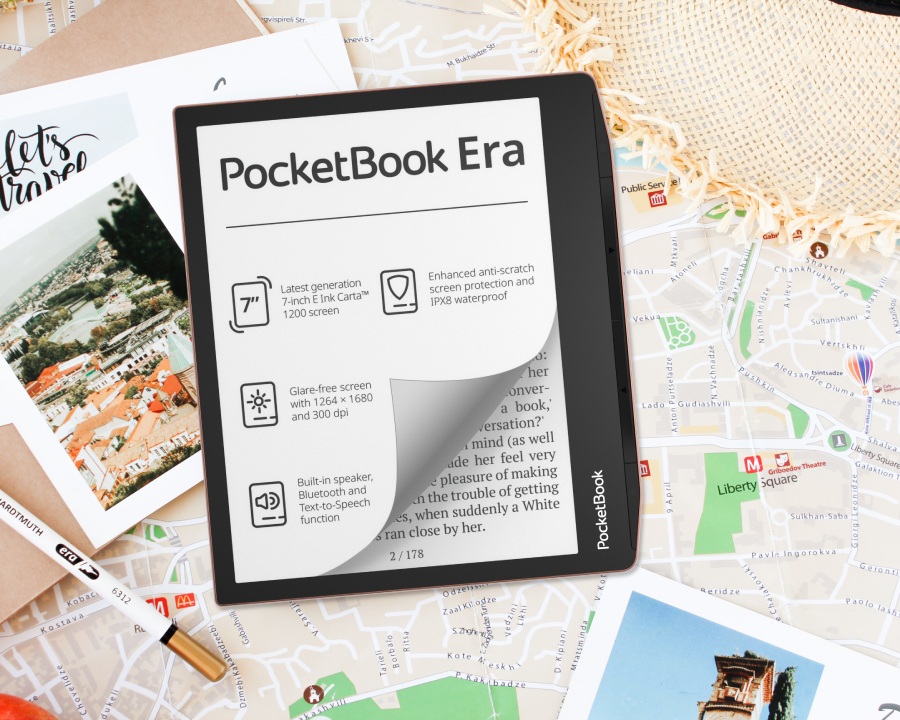 Redefined design and remarkable usability
Elegant minimalism, thin and pleasing to the eye, original colours and elements – all these details create a unique design that inspires reading with the PocketBook Era. The device's ergonomics are also outstanding: thanks to its compactness, lightness, and control buttons on the side panel, the e-reader fits perfectly in hand. PocketBook Era is equipped with a G-sensor for screen autorotation, so it is equally easy to hold it with both right and left hand. The model also features a cover-catch system to combine the e-reader with the brand's PocketBook Flip Cover, turning them into one.
Water-resistant and protected from scratches
The PocketBook Era is protected against water according to the IPX8 standard. The device can be immersed in fresh water to a depth of 2 meters for up to 60 minutes. So, users can enjoy reading in the bathroom or by the pool without being afraid of any water spillages. Another PocketBook Era feature that provides users with extra confidence is new enhanced screen protection against scratches. Thus, PocketBook Era is an ideal device for active reading anywhere: in transport, on a hike, on summer vacation, etc.
PocketBook Era also features:
Support for 23 formats without conversion: 19 book and 4 graphic formats;
Support for 6 audio files formats, including formats for audiobooks,
Wi-Fi and branded Cloud services - for synchronisation with other devices and convenient library management;
1700 mAh battery - up to a month of active reading without recharging;
Dual-core processor - provides fast apps operation and smooth page-turning;
Pre-installed dictionaries – 11 pre-installed language combinations and 42 combinations available for download.
PocketBook Era is available worldwide in two versions: PocketBook Era in Stardust Silver color with 16 GB, and PocketBook Era in Sunset Copper color with 64 GB.
PocketBook Era – enter the new era of e-reading.