The Dark mode is available on PocketBook Era e-readers with the 6.8 firmware version, and on all new models produced starting of today, including latest InkPad 4 and InkPad Color 2. In the nearest future, the new firmware will be available for other PocketBook models.
Among the other new features and improvements are: new user configurations of the control panel, new filter options in the Notes app, text suggestions feature, and much more.
Enjoy eye-friendly reading with the Dark mode
Using Dark mode on your PocketBook can provide more comfort of reading in low-light environments and at nighttime. This feature alters the display settings, presenting white text on a dark background, which does not contrast with the dark surrounding and does not interfere with the eyes. You can also switch the inversion of book illustrations while reading in Dark mode.
Many avid readers have discovered that utilizing Dark mode on their devices helps to ease fatigue in their eyes from looking at a bright screen. Moreover, Dark mode proves highly beneficial for nighttime reading, as it reduces the amount of blue light emitted by the screen, which can be a contributing factor to eyestrain and fatigue.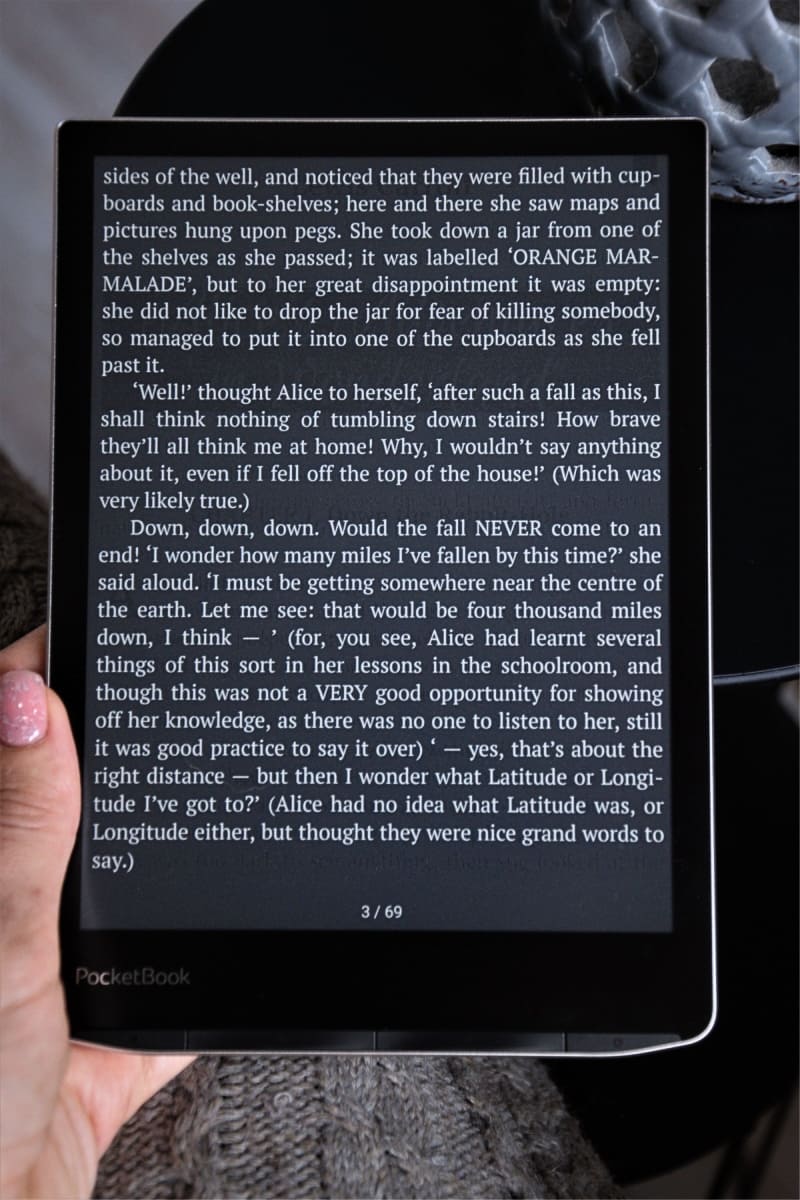 Other improvements that are available with firmware 6.8:
Customize the control panel according to your preferences: from now on, you can add the controls you use most often to the control panel. Get quick access to such controls as Wi-Fi, Bluetooth, Task Manager, Flight mode, Synchronization, G-Sensor, Lock, Power off, Screenshot, Library Search, and the shortcuts of all applications. Moreover, you can also configure the number of controls in your control panel.
Convenient filtering of notes: manage your notes in the book by separately selecting markers, comments, screenshots, pencil notes, translation notes, and all notes. You can also change the font size in the list of notes in the Notes app and the Reading Program.
Improve your reading and translating experience with Morphological dictionaries: with new firmware, you can download and install morphological dictionaries that will help to bring different forms of words to their basic form. It will significantly simplify their search in dictionaries.
New Text Suggestions feature for quicker and more convenient typing on the screen keyboard.
Faster zoom in PDF and DjVu formatted books for better reading comfort.
The new UI for the firmware update procedure shows all the changes in a clear and precise list. From now on, you can also automatically download the firmware in the background.
The new firmware version 6.8 is available for PocketBook Era e-readers and is installed on all new models that will be released from now on. Soon, it will be available for other latest PocketBook models.
Install the new software now, and explore all the improvements it will bring to your PocketBook. Don't hesitate and make your reading experience even better!