PocketBook releases the new ultra-light entry-level e-reader PocketBook Basic 4 with an eye-friendly and glare-free 6-inch HD screen featuring the latest generation E Ink Carta™. The easy-to-use device offers all the advantages of E Ink technology. It is an ideal e-reader for those who appreciate simplicity and comfort.
More than a book
What do you need from a good book? It should always be on hand and feel like it can immerse you into its exciting plot. PocketBook Basic 4 is easy-to-use and eye-safe just like a regular paper book, but it also allows you to store thousands of interesting stories in your pocket. The e-reader features a 6-inch E Ink Carta ™ HD screen, which has the same contrast as a printed book and guarantees the same safety for the eyes. Thanks to the E Ink technology, the device is comfortable to read even in the brightest sun: glares won't spoil the joy of a fascinating book.
Attractive look, impressive lightness
With new product design, the PocketBook Basic 4 looks compact and stylish. Ergonomic buttons on the front panel allow you to operate the device easily and conveniently with one hand. The e-reader weighs just 155 g with dimensions – 161.3 × 108 × 8 mm. No matter where you are going to carry your PocketBook Basic 4: in a school backpack, ladies' handbag, or even in a jacket pocket, the device is genuinely compact. The PocketBook Basic 4 can store a huge digital library of several thousand books, and at the same time, is lighter and thinner than a regular notepad.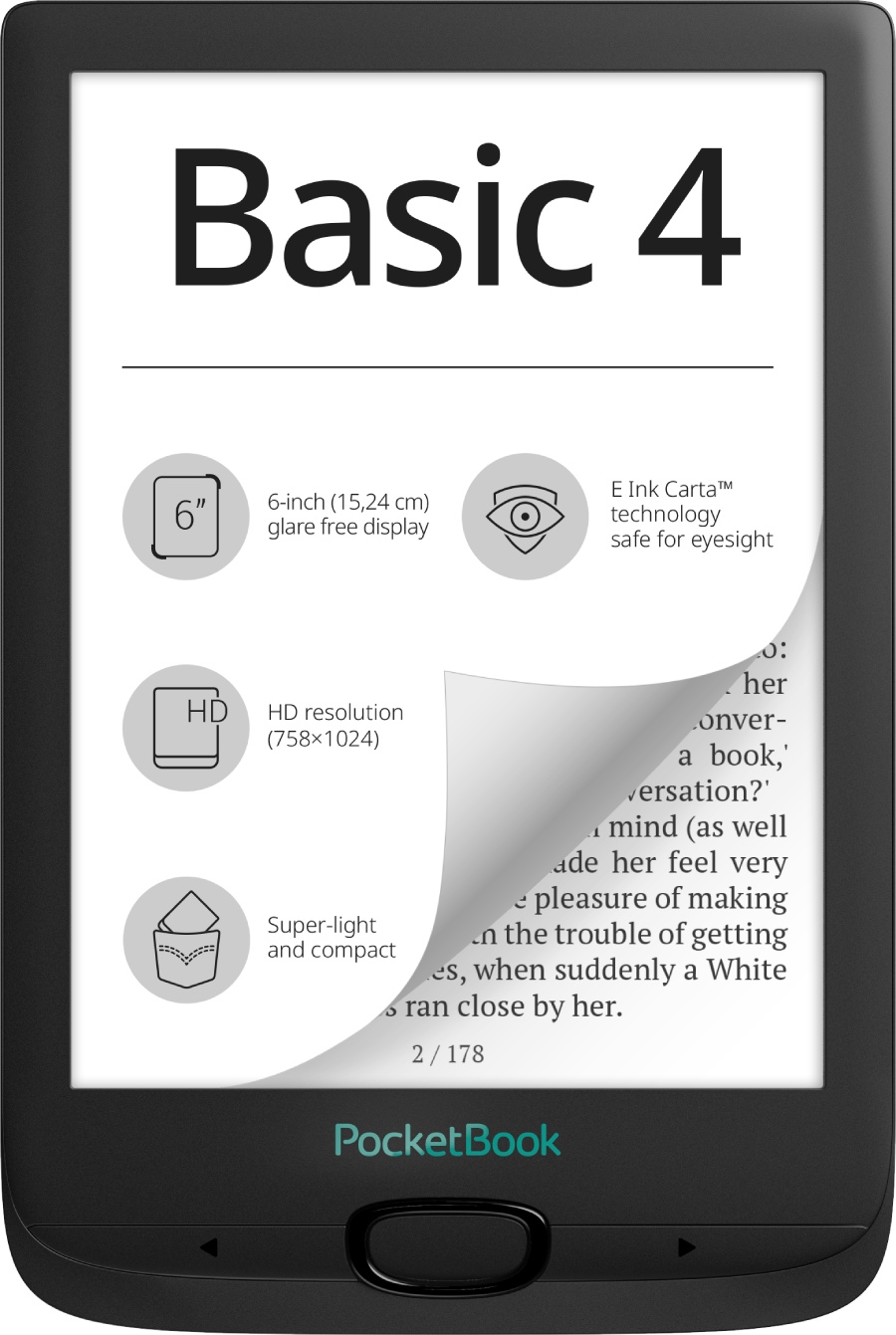 Rare recharge, no converting files
The PocketBook Basic 4 supports 16 of the most common e-book and 4 graphic formats, simplifying the e-reader experience. The device easily displays the vast majority of books, saving users' time without the need to convert files. With the e-reader, you won't have to worry about regularly recharging the battery. The PocketBook Basic 4 can run on a single battery charge for more than a month, which also makes the e-reader the perfect travel companion.
A perfect place for your library
The PocketBook Basic 4 features an 8GB built-in memory, which allows you to store several thousand books on the e-reader. You can also expand the virtual library to more than 15 thousand e-books, with a memory card slot up to 32 GB, depending on the format and quality of each downloaded file.
PocketBook Basic 4 – simplicity and lightness are always on trend