PocketBook is proud to announce its long-awaited e-reader with a large 10.3-inch screen – PocketBook InkPad X. Whatever you're reading: a book, newspaper, magazine, comics or professional literature, – the huge screen provides an incredible user experience. Weighing just 300 g, the new e-reader also features SMARTlight function and audio output.
Expanding reading horizons
PocketBook InkPad X features a 10.3-inch HD screen with a 1404 × 1872 resolution, making it the ideal device for reading any kind of content: books, digital versions of newspapers and magazines, comic books, scientific publications, and even music sheets. With the InkPad X, the user can see even more text on one page without reducing the font size. On top of this, the E Ink Carta™ Mobius technology makes the optical characteristics of the screen almost identical to a regular paper page.
SMARTlight for reading at any time
PocketBook InkPad X is designed for active use for any time of the day or night. SMARTlight technology provides maximum reading comfort in all lighting conditions, automatically adjusting the brightness and colour temperature of the screen. You can even change the brightness and colour tone without breaking away from the page: just slide your finger along the side of the display. Users can also save their screen settings templates to activate later on.
32GB of memory for a colossal library
PocketBook InkPad X includes a massive 32GB of internal memory. Just imagine how many text files and images will fit in your electronic library! For instance, PocketBook InkPad X can store up to 15,000 books without illustrations in EPUB format. Even downloading PDFs of magazines and newspapers, as well as comics in CBR and CBZ formats, the e-reader's storage is capable of holding about 10,000 files (actual content quantity depends on size and quality of each loaded file). You will definitely have enough space to store your favourite collection of audio books' on your e-reader.
Audio books and music on your PocketBook
Listening to audio books has some undeniable advantages over traditional reading. Among them is the opportunity to perform several tasks while listening to a book (like driving a car!). PocketBook InkPad X is equipped with Bluetooth and plays audio books and other audio files in MP3, M4B and OGG formats. This means you can listen to music without breaking away from your favourite novel. Text-to-Speech is another useful feature that book lovers will appreciate. By connecting headphones to the e-reader, you can listen to any text document in up to 16 languages.
Power and endurance
Thanks to a modern dual-core processor, PocketBook InkPad X easily and quickly copes with any task. The device is equipped with a 2000 mAh capacity battery, which provides up to one month of full-time operation without recharging. PocketBook InkPad X also features a cover sensor, which ensures the e-reader will automatically switch to sleep mode after you close the protective cover.
The product uses USB Type-C (USB standard 2.0) for both charging and connecting headphones via bundled 3.5 mm audio adapter.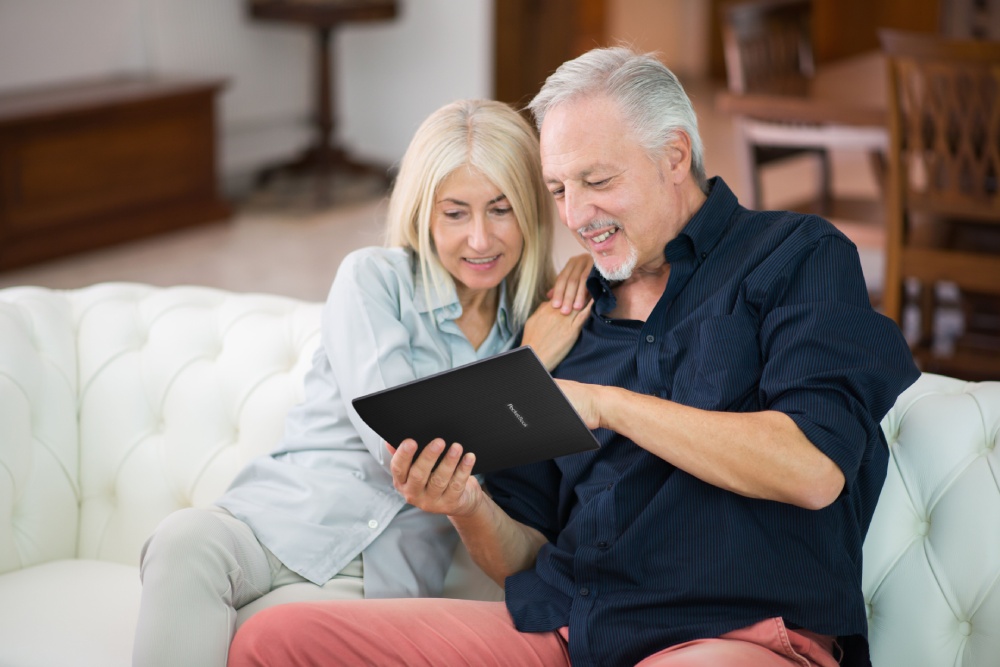 Any format, any language, anywhere
PocketBook InkPad X continues to promote the PocketBook philosophy of complete freedom, and this is reflected in every detail. The e-reader supports 19 book, 4 graphic (JPEG, BMP, PNG, and TIFF) and 3 audio formats (MP3, M4B, and OGG). The more formats, the greater the flexibility for the reader.
The new model is perfectly suited for people who learn languages or travel a lot as well. The pre-installed Abbyy Lingvo® dictionaries will help you read foreign literature by translating unfamiliar words.
PocketBook InkPad X is part of the global PocketBook ecosystem. Using the PocketBook Cloud service, you can upload books to the e-reader, transfer individual files or your entire library to a smartphone and any other devices, synchronise reading positions, bookmarks and notes.
PocketBook InkPad X to expand reading horizons.