The long-awaited firmware version 6.0 for PocketBook InkPad 3 Pro e-readers is ready to download. Users will find several fantastic updates such as a new design of the main menu and applications, including Music Player. The e-reader already features 20 book formats without converting. From now on the e-reader supports even more formats, with the added EPUB3. And, of course, the most important news is the preinstalled bookstore - pocketbook.de*.
Each software update by PocketBook is designed to make e-reading even more convenient and comfortable. The company's products regularly receive new features and capabilities, which keeps your e-reader up-to-date even a few years after purchase. The new firmware 6.0 introduces the following updates for the PocketBook InkPad 3 Pro: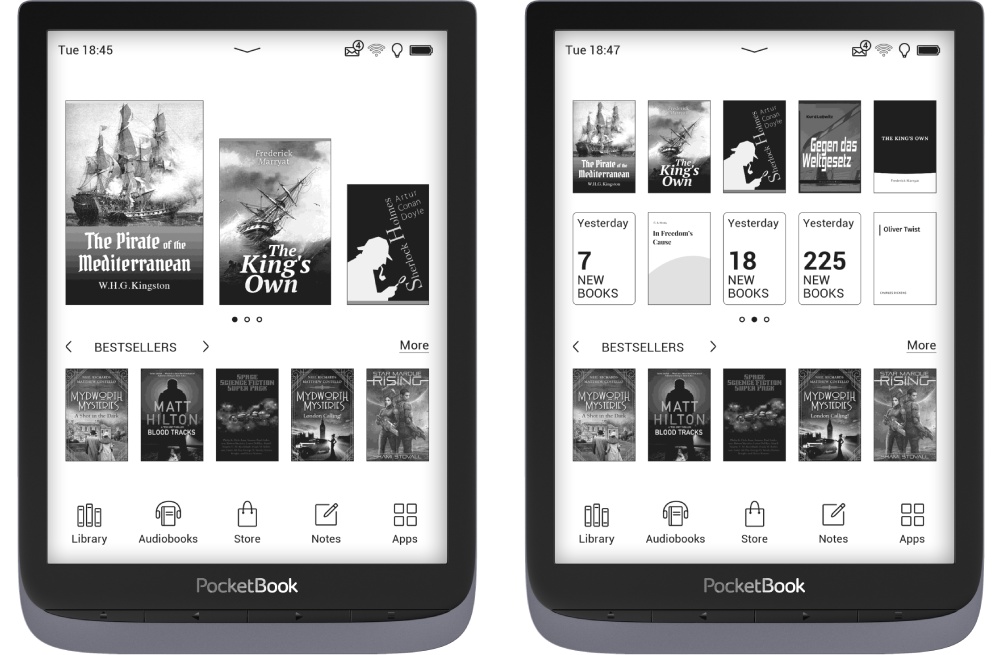 The new online bookstore Pocketbook.de is a modern online store with a large selection of literature, an intuitive interface, and a convenient search for books. Please note that the Bookland store is still open and accessible through a web browser.
The new design of the main menu: a list of recommendations with selected books (latest novels, bestsellers) has been added. You can now customise the e-reader's Home Screen: users can add application icons, and enable or disable book recommendations, etc.
Application design update: firmware version 6.0 changes the graphical user interface of applications as well as notification, control, and app panels. You can also find an even more compact design of the Music Player application for listening to audiobooks.
PocketBook e-readers can now support another book format, EPUB3. Therefore, InkPad 3 Pro now supports 20 book, 4 graphic and 3 audio formats, which is a real record for such devices.
The authorisation system is easier than ever to use. Thanks to the new firmware update, you can now use just one account to log in to PocketBook Cloud, PocketBook Store, and other branded services. You can also authorise the account through scanning the QR code in the PocketBook Reader mobile app via a smartphone.
The e-reader will work even faster. Installing firmware 6.0 will speed up the performance of PocketBook InkPad 3 Pro: the device quickly switches on from sleep mode, the touch panel responds better than ever, and typing in handwriting mode is smoother.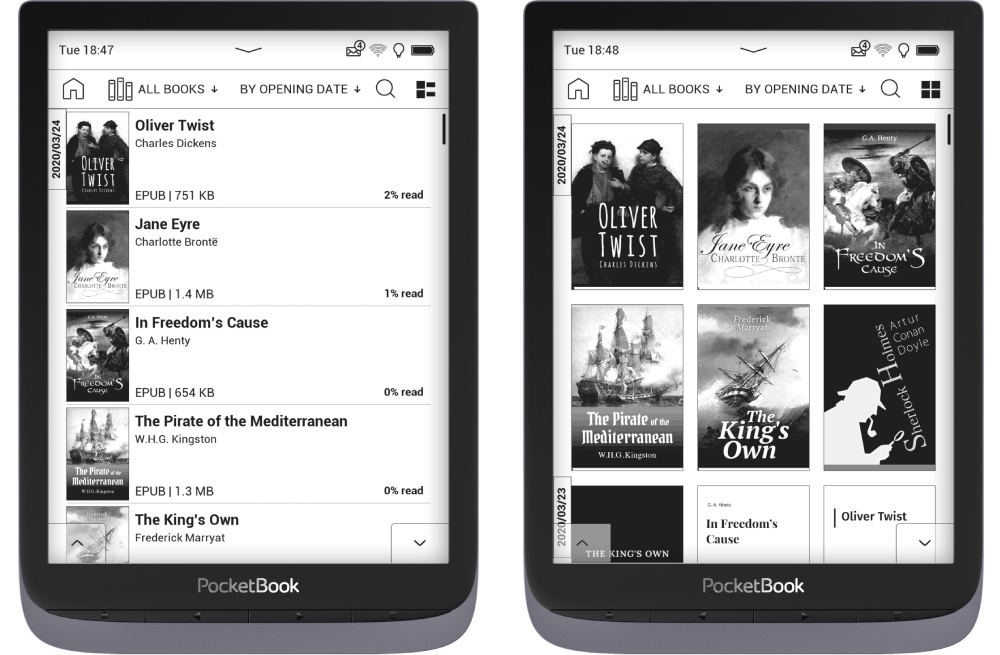 Of course, this list of updates is not complete, so download the firmware version 6.0 and enjoy the new features of your favourite PocketBook InkPad 3 Pro.
The firmware 6.0 update will first be available for PocketBook Touch HD 3 e-readers, and soon the update will be released on other PocketBook models.
*For e-readers with Bookland bookshop